The itmX crm suite for marketing, sales and service completely maps the individual customer journey of your customers
Mit der itmX crm suite heben Sie Ihre Kundenbeziehungen auf ein ganz neues Level. Als einziges, vollintegriertes CRM für Ihr SAP ECC oder S/4HANA profitieren Sie von der perfekten User Xperience samt Realtime 360°-Sicht auf Ihre Kunden sowie einer nahtlosen Integration in Microsoft Azure und Microsoft 365. Dank der modularen Anpassung wird die itmX crm suite perfekt auf Ihre Anforderungen und Bedürfnisse in Marketing, Sales, Service und Commerce abgestimmt.
Das heißt: Einfache Bedienung, passgenaues Baukastenprinzip und integrierte Datenhaltung – so macht das Arbeiten Spaß!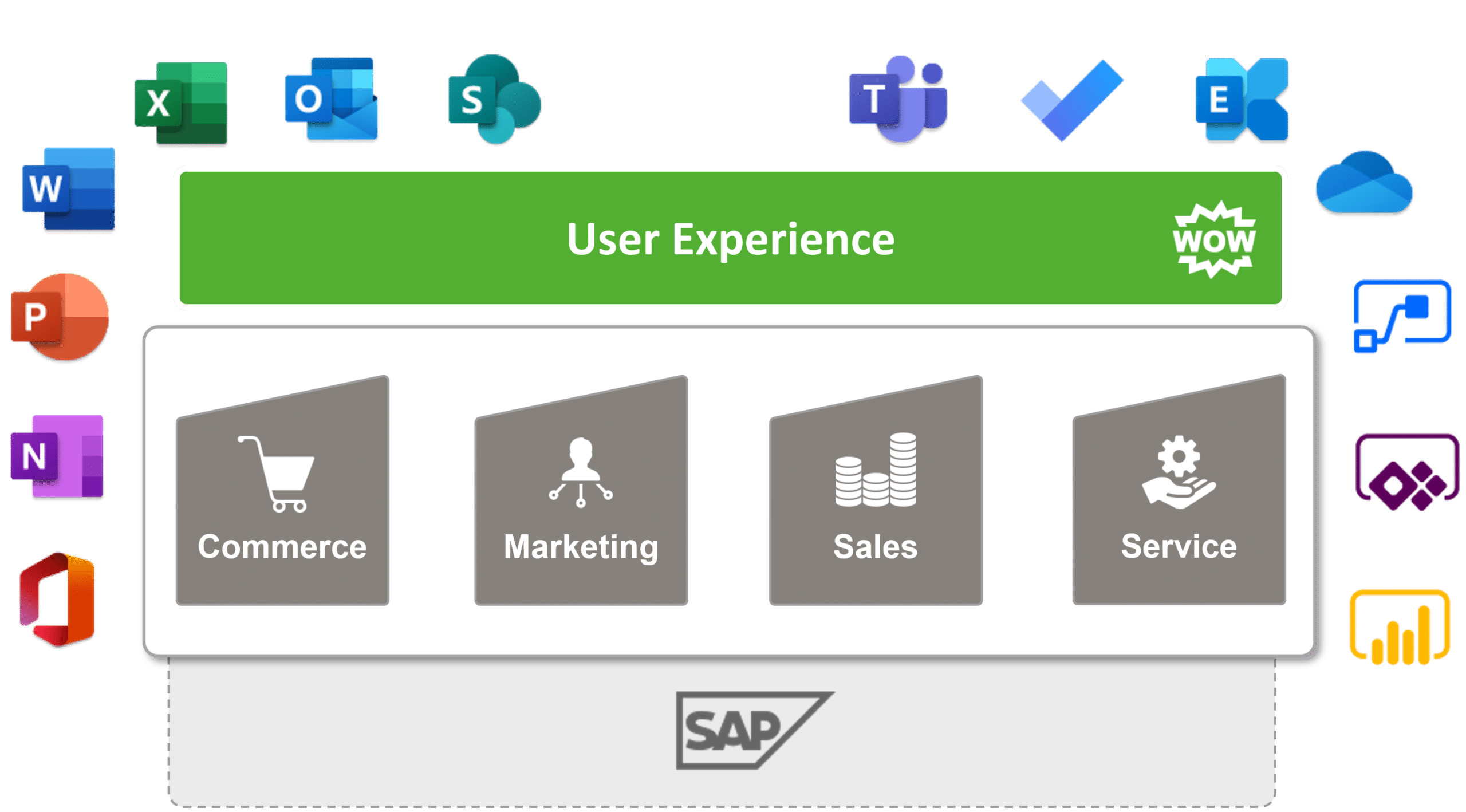 Comprehensive functionality meets intuitive operation
Vom Marketing über den Vertrieb bis hin zum Service können alle Contact-to-Aftersales-Prozesse transparent und übersichtlich dargestellt werden. Dabei profitieren Sie von dem Besten aus beiden Welten – SAP und Microsoft.
Mit der itmX crm suite bringen Sie Schwung in Ihren Lead-to-Order-Prozess, begeistern Ihre Kunden mit personalisierten Kundenerlebnissen und sorgen für einen erstklassigen Kundenservice – so werden aus Kunden echte Fans!

Diese und viele weitere Unternehmen vertrauen auf uns und unsere Lösungen: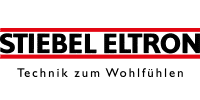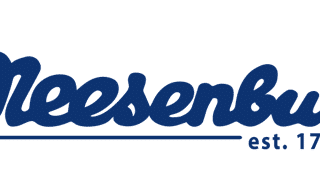 Die itm

X

crm suite als passgenaue CRM-Lösung für Ihre Branche:
Mit der itmX crm suite für Marketing, Sales und Kundenservice vernetzen Sie Abteilungen, Maschinen und Produkte und sorgen für eine Experience, die begeistert. Durch die vollständige SAP ERP Integration haben Sie jederzeit auf alle für Sie relevanten Daten Zugriff.
Mit der itmX crm suite für Marketing, Sales und Service erfüllen Sie alle Anforderungen an Ihr Kunden- und Partnermanagement und können Ihre Prozesse -B2B2C oder auch B2R – vollständig in Ihr SAP ERP integriert, abbilden.
Mit der itmX crm suite bilden Sie alle wesentlichen Prozesse rund um Marketing, Vertrieb und Service ab. Damit legen Sie den Grundstein für eine Experience, die Ihre Geschäftspartner begeistern wird.
Neben unseren Fokusbranchen Maschinen- und Anlagenbau, Handel und Bau beraten wir auch Sie gerne individuell und passend zu den Anforderungen und Herausforderungen in Ihrer Branche. Sprechen Sie uns einfach an.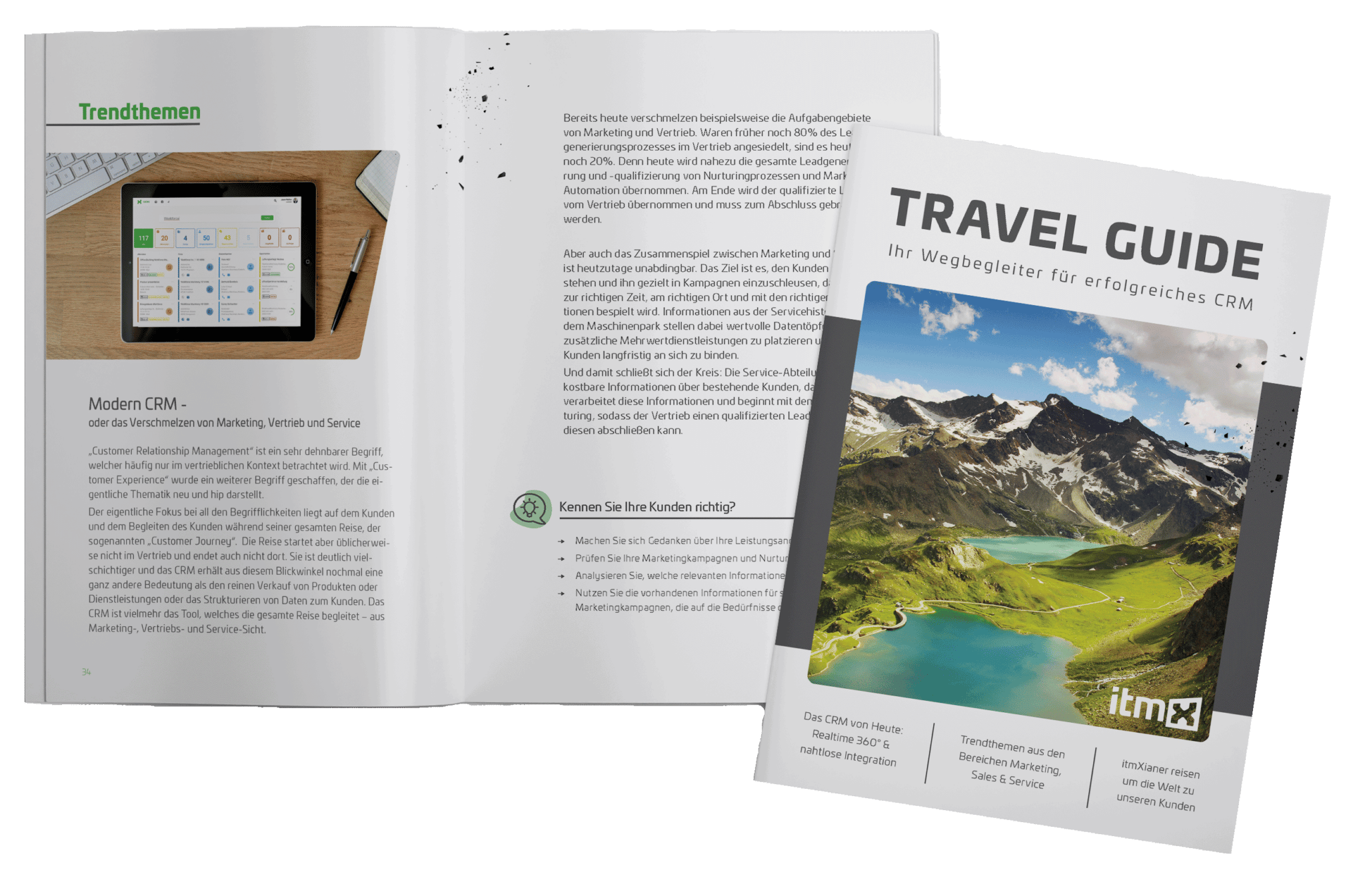 Der itmX Travel Guide – Ihr Wegbegleiter für erfolgreiches CRM
Sichern Sie sich eine exklusive Printausgabe unseres itmX Travel Guides. Auf 120 Seiten erfahren Sie alles rund um aktuelle CRM-Themen und Trends sowie internationale CRM-Projekte – gleichzeitig profitieren Sie von tollen Reisetipps für Santa Barbara, Hamburg, Singapur und mehr…
Still not convinced? Here is even more info
Mehr zum Thema CRM und Integration finden Sie in unseren folgenden Blogartikeln:
CRM meets customer portal: Effective networking for optimized customer service In today's business world, customer relationships are of crucial importance. Effective customer relationship management (CRM) enables [...]
What does CRM mean? Customer relationship management, or CRM for short, is about the relationship management of customers and potential customers, which is professionally managed with [...]
How AI can change CRM today and in the future Artificial intelligence (AI) - the buzzword of the 21st century. With the help of AI algorithms, [...]
Wollen Sie ein umfassendes, nahtlos integriertes CRM?
Dann kontaktieren Sie uns gerne – egal ob Sie noch Fragen haben oder ein Beratungsgespräch wünschen. Wir freuen uns über Ihre Nachricht und finden gemeinsam für alles eine Lösung!
Formular wird geladen . . .