The number one communication medium for cross-company communication is still e-mail. According to a projection by statista, as many as 306.4 billion e-mails will be sent in 2020. Although collaboration tools such as MS Teams, Nextcloud, G-Suite and Trello are gaining ground, they cannot yet map the entire communication between companies.
Thus, the total of all employee mailboxes of a company represents the largest knowledge database within a company. So why not use this knowledge to optimize and perfect processes in marketing, sales and service – or even beyond?
Imagine you receive an inquiry by e-mail today from a customer who was actually served by one of your former colleagues. The colleague did not carry out a personal handover, as there were no acute issues with the customer. Now the customer would like to receive information about the maintenance situation and open service tickets quickly. How do you get the relevant information? Which steps are necessary? Which colleagues do you have to address and which different systems do you have to operate?
Within most companies this information procurement is very laborious and sometimes even incomplete. Information is stored in different systems and even the employee mailbox is local and therefore not accessible to the entire company.
The best possible user experience – intuitive and integrated
This is why itmX has been relying on a seamless integration of Microsoft Outlook and the itmX crm suite for years. The transfer of appointments and contacts from the central CRM to the local mailboxes is a central component.
"officeXperience" will expand the itmX crm suite from Q4 2020. The Outlook AddIn focuses on providing relevant information from the CRM or SAP system directly to a user's inbox. On the other hand, "officeXperience" enables the direct storage of mails including attachments or the creation of new activities from a mail.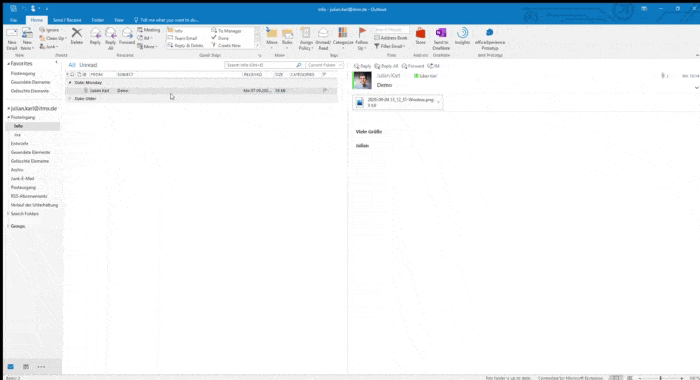 Based on the e-mail address of the sender, the information is displayed within the Outlook AddIn "officeXperience". The user thus has a direct 360° view and no longer has to tediously search for information. No matter whether information on opportunities, quotations, orders or service notifications. Everything is directly available and can be accessed in the CRM with just one click. Even the filing of important documents in the CRM is done in just a few seconds.
No more time-consuming searching for information or asking colleagues. Look forward to a completely new user experience with our Outlook AddIn "officeXperience".